VA – Renovation Escrow Holdback Loan is now an option for eligible veterans.  The VA Renovation home loan option is similar to FHA 203k, HomeStyle, escrow holdbacks and Jumbo Renovation Loans that we offer  for eligible veterans using a VA Home Loan.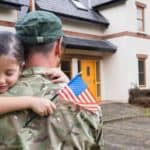 Apply for a VA Home Loan Now
Team@JeremyHouse.com
602.435.2149
Veterans can use this VA Escrow Holdback Renovation loan to finance the cost of either required repairs and/or desired improvements to a home.  The great news is that this product is available for both new home purchases and for refinances.
Based on Future Value NOT Present Value of Home
The VA Renovation loan is based off of the homes future appraised value (value after repairs & improvements are complete).  This opens up more room to finance more improvements,  For example, if a home is worth $300,000 currently and an appraiser states that same home will be worth $400,000 once the improvements are complete, the new VA Escrow Holdback Renovation loan would be based on the $400,000 future value.
Basic VA Renovation Loan Guidelines:
Eligible on Purchases and Refinances
Max Loan Amount up to $1,000,000
Repairs can take up to 90 days from closing to be completed
Offered on 15, 20, 25 and 30 year fixed rate term options
Repair cost total can equal up to 25% of the future appraised value (value after renovations are complete as determined by VA appraiser)
No added escrow holdback fees (*unless an engineer's report is required)
Up to 3 contractors allowed
Minimum credit score of 640 required
0% down/0% equity required (*loans above County max Conforming limit may require a down payment/equity)
Learn more about VA Home Loans
Team@JeremyHouse.com
602.435.2149
VA Renovation Loan Allowable Repairs/Improvements Include:
Roof: repair or replacement (covering, underlayment)
Gutters/downspouts: install/repair/replace
Insulation: ceilings/walls/asbestos removal
Siding/windows/doors
Paint: interior/exterior/lead paint abatement
Kitchen: all appliances/cabinets/ total
Electrical: repair/replace/recondition all
Plumbing: repair/replace/recondition all
Repair/Replace HVAC or other systems
Repairing or removing an in-ground swimming pool
Installing or repairing fences, walkways and driveways
Flooring/subflooring/tile/carpet/wood
Termite treatment/damage repair
Repairing or replacement of well and septic
Weatherization items/repairs/ improvements
Foundation Repair
Apply for a VA Home Loan
Team@JeremyHouse.com
602.435.2149
VA Renovation loans are long overdue!  Eligible veterans using a VA home loan now have one more way to purchase or refinance to finance the cost of repairs and home improvements.  It represents a low cost way to improve the condition and value of a home using their VA home loan benefits.
By Jeremy House
Related posts:
The following two tabs change content below.
Jeremy is the Founder of The HOUSE Team and a Sr. Loan Officer/Branch Manager with PrimeLending. Over the past several years he has ranked in the top 1% of all loan officers nationwide and one of the top 200 loan officers in America. In the mortgage industry, the devil is in the details. Jeremy prides himself on being a student and an expert when it comes to everything mortgage related.
Latest posts by Jeremy House (see all)