If you have a cell phone, TV or if you still rely on good old fashion barber room/coffee house human conversation for your news intake you know that current Arizona Mortgage Rates have gone up over the past month due to the Fed talking (some say squawking) about potential changes to monetary policy.   That my friends is the subject of a completely different blog (and a new "What's Up With Rates" special guide that I will have ready next Monday explaining what has gone on with rates).  For now, I want to share some much-needed insight relative to what current Arizona mortgage rates translate to in terms of increasing your monthly mortgage payment.
Arizona Mortgage Rates Impact on Payments
VA, FHA, USDA and Conventional Loans
Click on the following icon to see a chart outlining how payments are impacted by various increases in interest rates for each type of Arizona Mortgage Loan: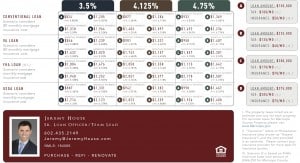 You may be surprised to see that the monthly payment on a $300,000 Conventional loan at 4.75%  on a 30 year fixed mortgage (4.842% APR) is only $184 per month higher than a payment on the same loan amount/type at 3.5% (3.59% APR).  Payments on an FHA, VA and USDA are impacted in a very similar way.
Rates are up – the sky is NOT falling!
For the chicken little's reading this, take a deep breath.   Yes, current Arizona mortgage rates are up.  There is no denying or hiding from it. Let's talk about a few recent mortgage rate facts.
1. Friday July 5th,2013 marked the largest one day increase in fixed mortgage rates since 1971 (per Freddie Mac data)
2. The week of June 24th to June 28th, 2013 marked the largest increase in mortgage rates in a one week period since 1971 (per Freddie Mac data)
Ideally, these are not two records anyone wants to see set let alone see them set in such short proximity to each other.  However, if you consider that mortgage rates were at historically low levels prior to these two record-setting time-frames you would see that current Arizona mortgage rates are still historically low.  In fact, according to Freddie Mac 30 year fixed rates today are lower than 477 out of  the past 509 months.  Let's take a look at how a bump from super low to now just low Arizona mortgage rates impacts your monthly mortgage payment.
Arizona Mortgage Rates are Still Low
Despite what you may think (and frankly if you are thinking current rates are high my guess is that more of an emotional response/feeling than a logic based thought) mortgage rates are still extremely low.  In addition, with the FED paying close attention to how the market is reacting their policy updates/changes, they will do all they can to keep current Arizona Mortgage rates in a healthy zone which by historical standards and Fed expectations means the 4% to 6% range on a 30 year fixed mortgage.
If you have any questions on where current Arizona mortgage rates are call or email today!
Phone: 602.435.2149
Email: Team@JeremyHouse.com
By Jeremy House
Google
Phoenix Area Mortgage Rates