For years, veterans have been without a VA Renovation mortgage option.   Well, that wait has come to a glorious end!  Welcome to the era of the VA Renovation home loan.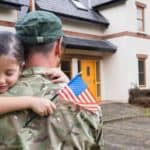 Apply for a VA Home Loan Now
Team@JeremyHouse.com
602.435.2149
The VA Renovation loan resembles an FHA 203k or HomeStyle home loan.  With it, veteran's can finance repair and renovation costs into their home loan.  Furthermore, VA Renovation loans are for both purchases and refinances.
VA Renovation Loan Based on Home's Future Value
Future value is the backbone of a Renovation loan.  VA appraiser's forecast a home's value on VA Renovation loans. In short, future value equals a homes value after repairs & improvements are completed.  However, the appraiser gives a concrete future value long before any renovation work begins.
Hence the name – "future value."  Future value gives veterans access to future equity before they have it.  As a result, veterans leverage their future equity to finance repair and improvement costs.For example, let's assume the following:
Home is worth $300,000 before improvements
VA appraiser values home at $400,000 once specific improvements are completed
As a result, this home is valued at $400,000 on a VA Escrow Hold-back Renovation loan.
VA Renovation Loan Rules
Purchases and refinances allowed
90 days to complete work
Repair costs up to 25% of future value allowed
Maximum of 3 contractors
0% down – equity required (applies to local conforming loan amounts)
Learn more about VA Home Loans
Team@JeremyHouse.com
602.435.2149
Eligible VA Renovation Loan Repairs & Improvements
VA Renovation loans allow different types of repairs.  For example:
Roof repair
Insulation & Siding
Paint
Kitchen updates
Electrica, plumbing & septic
HVAC
Repair in-ground pools
Install or repair driveways
Flooring
Termite treatment
Foundation Repair
Apply for a VA Home Loan
Team@JeremyHouse.com
602.435.2149
Veterans finally have a home loan that helps them renovate their home.  Funding renovation costs with a VA Renovation loan improves the condition and value of a veteran's home without the out of pocket expenses associated with a rehab.
By Jeremy House