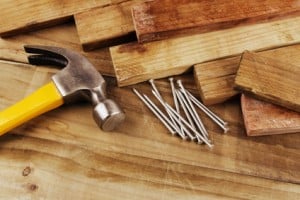 How much would a home renovation increase your home's value (and your quality of life)?  Of course, you need money to finance the renovation project.  If only you had access to the equity the renovation will create today.  Then, you could just tap into that equity, pay for the renovation and live merrily ever after.  This is exactly how future value and renovation home loans work!
Apply for a Home Loan
Team@JeremyHouse.com
602.435.2149
Renovation Home Improvement Loan Process
While a renovation home loan is more involved than a standard mortgage, the process is quite simple once broken down. The 3 steps below are the most important in the entire reno process.
Step 1: Obtain Itemized Bids from Contractors
Most importantly, itemized bids are needed in the very beginning of the home renovation process.  These bids need to have all planned reno work detailed out.  This includes both scope and cost of all work.  Eventually, an appraiser uses these bids to pinpoint the home's "future value".  In addition to the bids, the homeowner should select a reputable team of contractors or a general contractor as early as possible.
Step 2: Determine Future Value of Subject Property
The backbone of a renovation loan is the appraisal.  A special type of appraisal called a "future value appraisal" paves the way for a renovation loan.   Future value appraisals verify what a home's value will be once the renovation is complete.   As a result, lenders base a renovation loan off the home's future value rather than it's lower current value.
Apply for a Home Loan
Team@JeremyHouse.com
602.435.2149
Step 3: Compare Renovation Costs with Value Added from Renovation Work
The type, cost and value added for each renovation should all be discuss with a Real Estate specialist.  Renovation costs compared to value added is an important comparison to make.  Estimating value added against total costs helps identify trouble early.  For example, when costs outweigh value added borrowers typically must come out of pocket to make the loan work.
The type or scope of the renovation work is also worthy of your attention.  After-all, renovation loans are not a catch all fix it all type loan.  In fact there are repairs that cannot be financed using a Reno loan.  For example new appliances cannot be financed into a Reno loan.  Your renovation lender will help you determine which renovation loan works best for you.
In conclusion, renovation loans help borrower's create their dream home.   They also help a home-buyer or home-owner tackle much-needed repairs.  In order to achieve success on a renovation loan make sure to follow the 3 keys above.
By Jeremy House
Google