An Arizona Mortgage Pre-Qualification Form must be provided when submitting an offer to purchase home.   The from validates that they are pre-approved for a home loan.  This powerful document is called a "PQF" for short.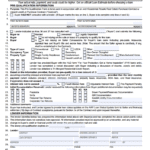 Take a peak at what the Arizona Home Loan Pre-Qualification Form.  Whether you are buying in Chandler, Mesa, Gilbert, Tempe, Scottsdale, Sun Lakes, Queen Creek, Avondale, Glendale, Tucson, San Tan, Ocotillo, Phoenix or any other city in Arizona – you will need a PQF to submit an offer on a home.
Apply for a Home Loan
Team@JeremyHouse.com
602.435.2149
Arizona Mortgage Pre-Qualification Form
The PQF is provided by the buyer's mortgage lender.  Then, the buyer's agent submits the PQF along with the Arizona Residential Real Estate Contract to convey and offer purchase a seller's home.  The PQF however, is not property specific.  In order to help the seller determine the buyer's level if qualification, the Pre-Qualification Form outlines:
Buyer's marital status
If the buyer is relying on the sale of another property to qualify
If the buyer is relying on the seller to pay closing costs
The Type of mortgage the buyer is approved for
The type of property the buyer is purchasing/qualified for
The buyer's occupancy of the home (primary residence, second home or investment property)
The loan amount, the monthly payment and the interest rate the buyer is qualified for
The amount of income, asset and credit documentation the buyer has provided the their lender for review
Apply for a Home Loan
Team@JeremyHouse.com
602.435.2149
As a result, sellers put a great deal of value on the Pre-Qualification Form when buyers are financing their purchase.  Without a PQF, sellers do not consider a buyer's offer as they feel the buyer does not have a complete home loan pre-approval in place.  Cash offer's on the other hand do not require a PQF.
In Summary, the Arizona Pre-Qualification Form does a great job of conveying the viability of a buyer and their mortgage pre-qualification to a seller.
By Jeremy House